Per Serving: 1 lean, 3 green, 3 condiments, ½ optional snack 
Yield: 4 servings 
Total Time: 30 minutes 
Ingredients 

1 eggplant (about 1 lb.) 

1 tsp salt, divided 

½ tsp pepper, divided 

Cooking spray 

3½ lbs. extra-firm tofu 

1 medium zucchini (about ½ lb.) 

2 tsp extra virgin olive oil, divided 

¼ cup powdered peanut butter 

1 tsp crushed garlic 

2 tsp balsamic vinegar 

1 tbsp parmesan cheese 

Directions 

Preheat oven to 425°F. 

Cut the eggplant in half lengthwise, and score the flesh with a small knife about ½-inch deep in a crisscross pattern. Place eggplant on a lightly greased baking sheet, and sprinkle a ¼ teaspoon of salt on top. Roast the eggplant with the flesh side up for about 30 minutes, or until the flesh is very soft and the surface is golden brown. 

Meanwhile, slice the tofu into ¼- to ½-inch thick slices and place in a mixing bowl. Toss tofu slices with a ¼ teaspoon of both salt and pepper. Set aside and allow to marinate for 20 to 30 minutes. 

Cut the zucchini on a bias into ¼- to ½-inch slices and toss with one teaspoon oil and a ¼ teaspoon of both salt and pepper. Grill on both sides until golden brown. Set aside and keep warm. 

When the eggplant is finished, remove it from the oven and allow to cool just enough to handle. Scoop the flesh into a food processor. Add the peanut butter powder, garlic, one teaspoon oil, and a ¼ teaspoon of salt. Process into a smooth puree; set aside and keep warm. 

In a lightly greased nonstick skillet, sear the tofu slices until golden brown on both sides. 

Neatly arrange the tofu, zucchini, and eggplant puree on a plate. Drizzle with balsamic vinegar and sprinkle with Parmesan cheese. 
Helpful Health Blog
Recipes, Tips, & More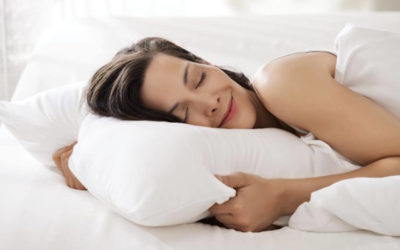 The Habits of Health Transformational System is unique in the health world for many reasons, from how we approach the way you make choices to how we manage fuelings and movement. One of the cornerstones of the System is Habits of Healthy Sleep—an aspect of health that...